Gabrielle Burton ( LADY GAGA)
Gabrielle Burton is a singer/songwriter in the greater Seattle area. She was born in Riverside, California and being a military brat also lived in Germany for a few years before moving to San Antonio, Texas where she grew up. In 2010 she moved with her mother to Seattle, Washington, where she began pursuing her music career. 
Gabrielle started dancing when she was 8 years old and is excited to be getting back into it. As a kid, she danced, cheered, acted, and sang. Being an entertainer is what she was born to do. Her first time performing in front of an audience was when she was 14 and sang the national anthem at The San Antonio Iguanas hockey game. Now she sings every weekend with either Haus Of Sound (her top 40 cover band), Poker Face, or The Cove Dwellers (her work band). Gabrielle also plays Violin and piano. 
Her musical influences were and are Lady Gaga, The Spice Girls, Alanis Morissette, Korn, Evanescence, Three Days Grace, System of a Down, Jewel, No Doubt, Britney Spears, Mariah Carey, NSYNC, Backstreet Boys, Hanson, The Offspring, Papa Roach, Linkin Park and many more.... 
Robert Gonzales (Drummer)
Born in Mexico, and raised in Northern California, Robert has been playing drums since he was 6 years old.   His father was also a musician and taught him how to play keyboard. In grade school and middle school, Robert learned to play trumpet, trombone, and tuba.   In middle school he was part of a district wide select Jazz band.   Once he got into High School, he began playing the drums, bass, and guitar.  At that point his dad noticed how strong he was musically, so he decided to start a band, which included his two brothers and they recorded a few albums.  
Robert Moved to PNW in 2006 when he met his wife.   Jumped around from band to band, all in the latino music scene.   Now he's here to rock this party!!
Dexter Morgenstern ( Bass )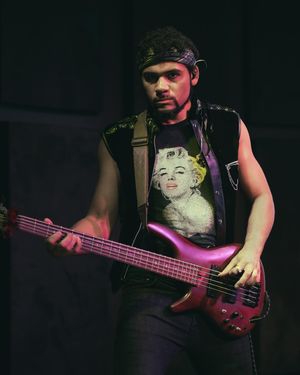 "Dexter is an artist who dabbles in several of the arts across Washington. He writes as an author, appears in local and commercial film, and plays bass for both Bleeding Tree and Poker Face."
Shelby Martinez ( Dancer)
DAVID BURTON ( HAUS PHOTOGRAPHER)